The registration form available HERE.
Each attendee is required to register at the conference venue.
The registration fee includes:
Attendance to technical sessions
Two papers are included for a single registration
Workshop, Special Sessions and Events
Lunches and coffee breaks from Monday 04 September to Wednesday 06 September

Welcome Drink on Monday 04 September

Santa Joana Museum and Theramin concert on Tuesday 05 September

Conference gala Dinner on Wednesday 06 September

Sunset Beach Party on Tuesday 07 September
The banquet ticket for accompanying person can be purchased at the cost of € .
On-site registration will be available at the registration desk during the conference. We would appreciate your cooperation in registering as early as possible, to allow us for the best organization of the event.
Registration fees (

23% VAT INCLUDED

)
Student fee applies to attendees being either students or Ph.D candidates; proof may be requested at the conference reception desk.
PhD School in RFID - 150€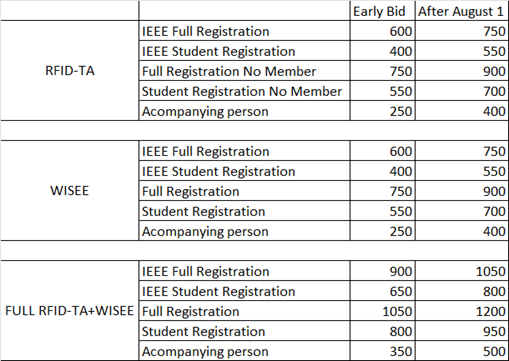 The final version will be checked by TPC Committee.
The final version of the paper must be fully IEEE Xplore compliant. Ensure formatting and IEEE Xplore® compliance. We strongly encourage you to use the IEEE PDF Xpress tool at http://www.pdf-express.org/ with the conference code (58140X) .
PDF Formatting

Your accepted paper will appear on IEEE Xplore® — the IEEE Digital Library — and it is important that your submitted PDF file meets the specification for IEEE Xplore®. Failing to submit an IEEE Xplore® compatible PDF file may result in the file not being included in the conference proceedings.
In order to assure that all submitted PDF files are IEEE Xplore® compliant.
PDF Generation
You must use IEEE PDF eXpress™ to generate or verify an IEEE Xplore® compliant PDF. We strongly recommend that all final submissions be created using the IEEE PDF eXpress™ service. The IEEE PDF eXpress™ service can convert your paper from a wide range of formats to IEEE Xplore®-compatible PDFs. The service is free of charge for RFID-TA authors and can be accessed using the following information:
Go to the IEEE PDF eXpress™ Login Page
Click on the link "New Users – Click Here" and fill in your information.
Please use conference ID number 58140X.
Continue to enter information as prompted.
An online confirmation will be displayed and an email confirmation will be sent verifying your account setup.
Previous users of IEEE PDF eXpress™ need to follow the above steps but should enter the same password that was used for previous conferences. Please verify that your contact information is valid.
NOTES
To guarantee publication of an accepted paper and its inclusion in IEEE Xplore®, at least one author must be registered and the paper must be presented at the conference. The registration is mandatory to upload the camera-ready version after acceptance (deadline: June 30, 2023). Each registration can be used to cover a maximum of two accepted papers.
Cancellation policy: registrations are not refundabl